András&nbspVári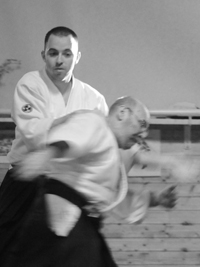 Born:
1982.
Started practicing aikido:
2002.
Present qualification:
2nd Dan, Joden
Other martial practises:
wado ryu karate, samurai swordmanship
Dojos - groups:
Akashiro Kidojo – for adults
Contacts:
+36 20 | 225 4680

The aikido lives, changes, adapts to the changes in the world, as our master, Yoshigasaki Sensei once said.
In my trainings, my goal is to pass on a practice method, where, when a technique "does not come together", we shouldn't stand still, but examine where we can go, what we can bring out of the situation.
If we take this approach out of the room, we won't see the problem, but the possibilities to solve it...