Alessandro Frittelli
(1962-2015)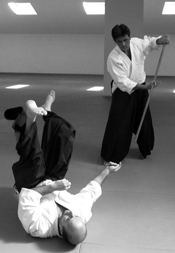 Our friend and comrade...
He was born the 15th of March 1962 in Florence. He started his martial arts training in 1978, he practiced Shotokan Karate and Aikido. From 1989 he became Shihan Giuseppe Ruglioni's direct disciple at the Ki Dojo in Florence, he accompanied the Shihan several times to take part of Sensei Koichi Tohei's seminars in Japan. He got his instructor degree in the early 2000s.
He moved to Hungary with his family in 2006, and from Septembertha year he actively participated in the work of the hungarian Kiaikido organization. He was the instructor of the Ten Chi Kidojo in Budapest, and made huge efforts in helping Dojos on the countryside, he gave seminars and helped in preparations for exams.We lost him with tragic suddenness in 2015.
His life and work in Hungary enriched the history of Hungarian Kiaikido.
His drowings made for Shihan Giuseppe Ruglioni's book, Ki Aikido, the unification of mind and body also keep his memory. These pictures are illustrating sensitively and with direct understanding the Shihan's messages.